By Karen Hendricks
It's one of Harrisburg's most treasured, beloved landmarks. The Susquehanna River is the longest river east of the Mississippi. Its basin — an immense 27,510 square miles —encompasses half of Pennsylvania, along with portions of New York and Maryland.
It's an area that 4 million people call home, including those who live along its picturesque shores from Cooperstown, N.Y., to Havre de Grace, Md. — including Harrisburg's rocky riverbed stretching nearly a mile wide.
The Pinnacle Overlook offers views of the Susquehanna River's Lake Aldred in Susquehannock State Park, Lancaster County. Marie Cusick / StateImpact Pennsylvania
"We are unique, in that we're a river city — and that has inherent issues," said Brian Enterline, Harrisburg Fire Bureau chief and head of emergency management.
That's because the Susquehanna is considered one of the most flood-prone watersheds in the nation, averaging $150 million in flood damage annually — a fact that Ben Pratt thinks about daily.
"I'm the point person here at the commission for all things related to flooding," said Pratt, a water resources engineer of 17 years with the Susquehanna River Basin Commission (SRBC). "So my day job is flooding. I get up every day concerned about flooding, and then climate change adds another level to it."
As iconic as the Susquehanna is, what are the risks swirling within its basin amid climate change? What changes are we experiencing in Pennsylvania's weather and climate? And how are those changes connected to flooding?
A perfect storm
Geography and weather patterns provide the perfect storm of ingredients for the basin's flood-prone tendency, even before climate change enters into the mix.
"We're always at risk for tropical storms and hurricanes in the summer seasons," Pratt said. "And with west-to-east weather patterns, we pick up moisture from the Great Lakes, which produces summer thunderstorms with heavy rain."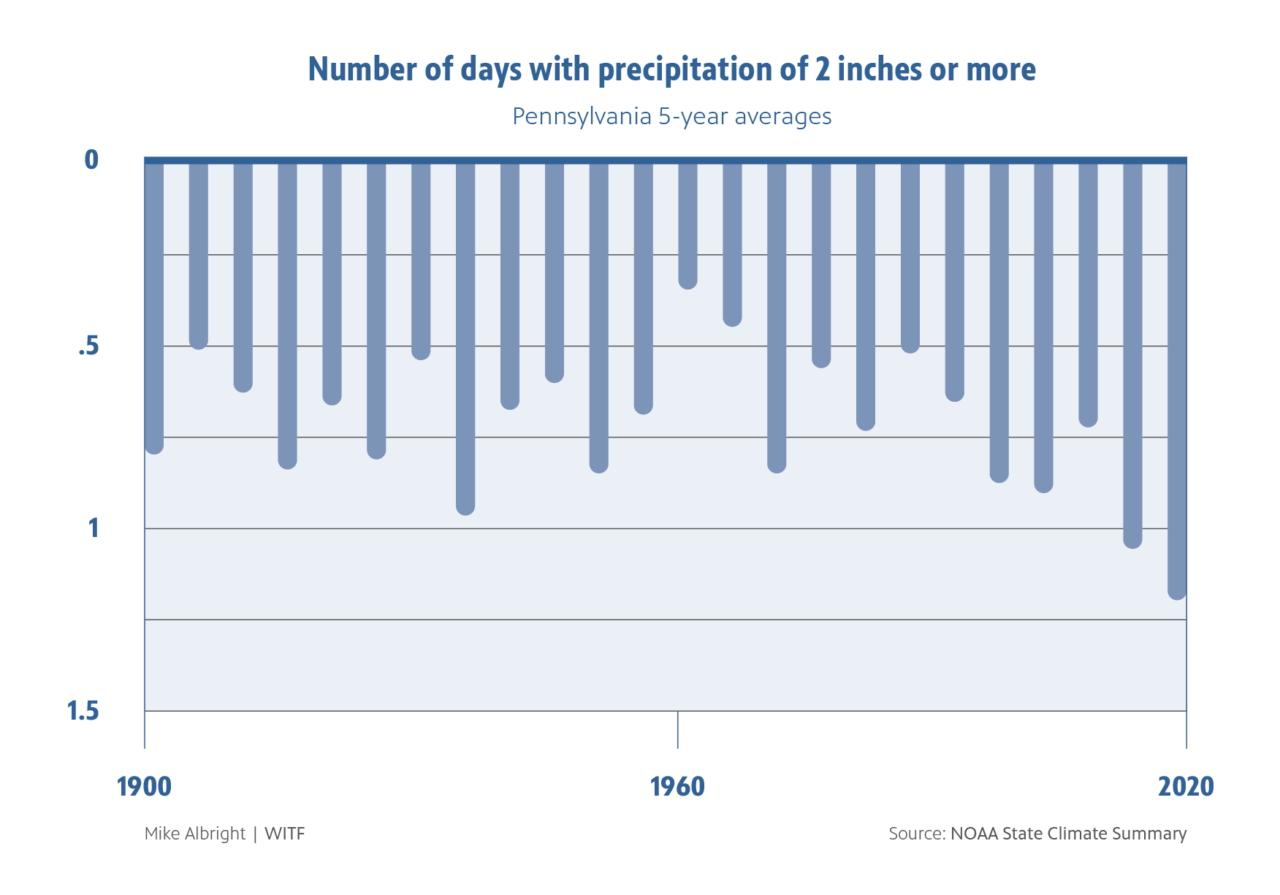 Perhaps no one understands flood risks better than residents and businesses in floodplains—areas designated to be most at-risk for flooding by the Federal Emergency Management Agency (FEMA). But weather events and climate change don't adhere to boundary lines drawn on maps.
"The biggest concern with climate change is the heavy, extreme events, even to those who aren't in a floodplain," Pratt said. "You have to expand the area of concern, and frankly it's everyone now that has a flood risk of some sort. And that's a real challenge … it's an expansion of what we've known historically as the 100-year floodplain. It's pretty much everywhere now — not just along the rivers."
Warming up
You've likely noticed changes — some of them extreme — in our weather. For example, Harrisburg has experienced little snowfall — and has even had some 50-degree days — this winter.
"It'll probably go down as one of the warmer winters we've had," said Jeff Jumper, Pennsylvania's state meteorologist working under the umbrella of the Pennsylvania Emergency Management Agency (PEMA).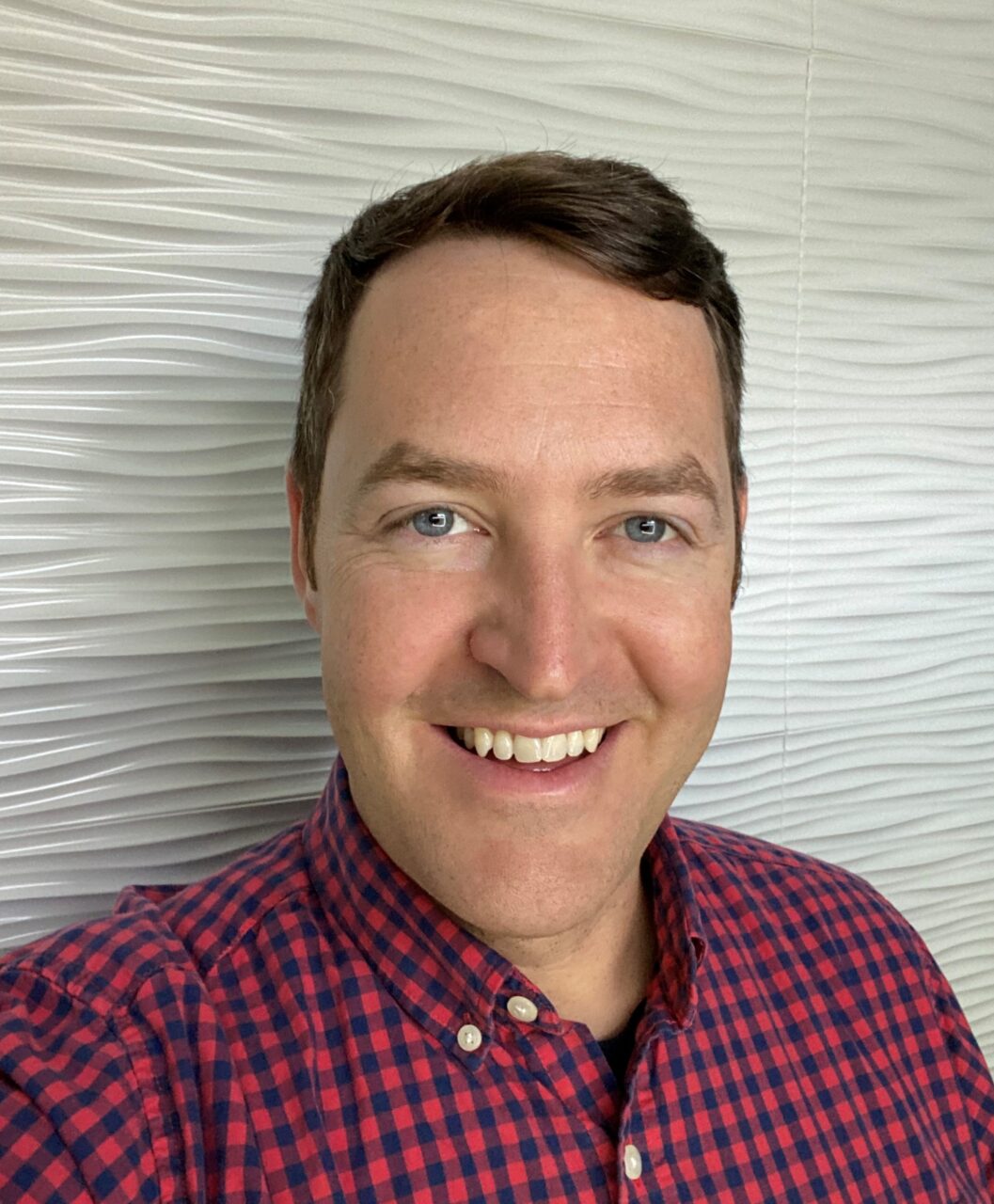 Submitted
Jeff Jumper, Pennsylvania state meteorologist at the Pennsylvania Emergency Management Agency.
But changes in the weather don't exactly equal climate change. Weather is what happens on a daily basis. Climate is the big picture — a long-term average of weather over decades and centuries.
Worldwide, the average global temperature — after being historically stable over the course of modern human civilization — began warming during the 1880s amid the Industrial Revolution, when the burning of fossil fuels accelerated. The earth has warmed 1.8 degrees Fahrenheit since 1900.
"Harrisburg's annual average temperature went up .3 degrees per decade," Jumper said. "We're in the category of [temperatures] climbing at a rate we've never seen before."
If we continue on this trajectory, the Department of Environmental Protection (DEP) estimates that Pennsylvania's average annual temperature will be 5.9 degrees warmer than the 48.3-degree baseline observed observed from 1971-2000.
"The idea is the rate at which we're seeing those temperatures rise. How quickly are we going to lose winter? How quickly are we going to be more like Richmond?" Jumper said.
In the atmosphere
Changes in climate are being driven by the atmosphere. Scientists first noticed the greenhouse effect in the 1820s, and, today, more than 99.9% of all scientists who have published in the field agree that climate change is real, and human activity — primarily emissions from the burning of fossil fuels — is the cause. Carbon dioxide (CO2) is one of those greenhouse gases, so when experts talk about "de-carbonization," it refers to lowering CO2 emissions.
And Pennsylvania is one of the leading emitters of CO2 in the nation. As one of the top two energy-producing states, the Keystone State is also the top electricity-exporting state, sharing 30% of its energy with neighboring states, according to DEP data. Pennsylvania is actually responsible for nearly 1% of total global emissions.
Additionally, the state's industrial sector contributes about one-third of its greenhouse gas emissions, primarily due to processes used in manufacturing concrete and chemicals, along with mineral extraction.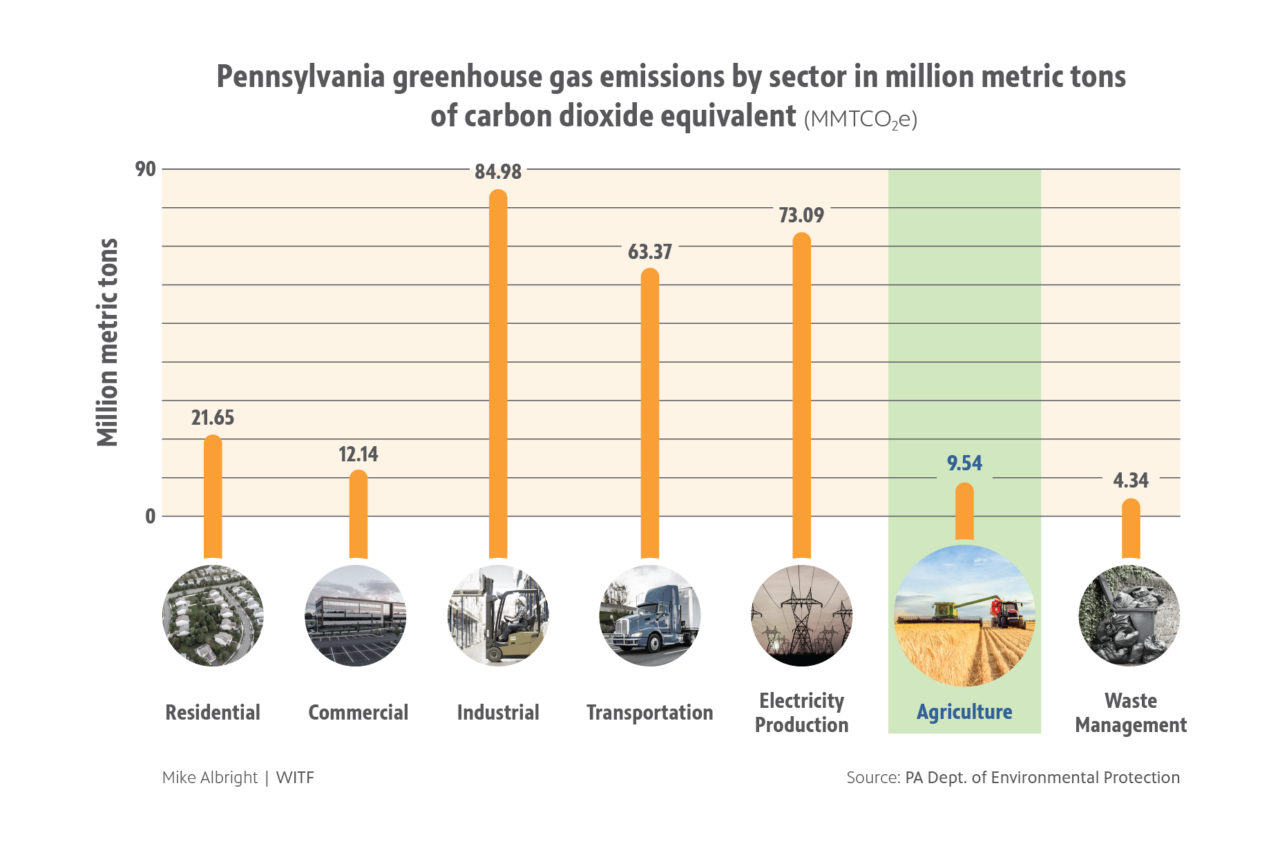 As greenhouse gases propel climate change and warmer temperatures, how does this tie into increased precipitation? Warmer air holds more water vapor, so when storms form, there's more water vapor available, compared to 50 or 100 years ago.
"Our 2021 Climate Impacts Assessment found that currently our [Pennsylvania's] biggest hazard is flooding. Across the state, we have the second-most miles of streams in the U.S.," said Lindsay Byron, DEP environmental group manager. "And we can expect an 8% increase in precipitation by 2050."
That's on top of an already-observed 10% to 20% increase in Pennsylvania's precipitation. The result? Pennsylvania's heightened risk of flooding. PEMA recently worked with each county's emergency management agency to identify their top three hazards—and the resulting map shows flooding is one of the top three risks in 56 of 67 counties.
In a flash
"The other challenge is predicting flash flooding, and that can happen anywhere in the state," said Jumper, who points to 2018 — Pennsylvania's wettest year on record. "We had no major snowstorm, no major tropical system. We just had a pattern that supported tropical moisture coming out of the Gulf and Atlantic" that dumped three months' worth of precipitation in a matter of days.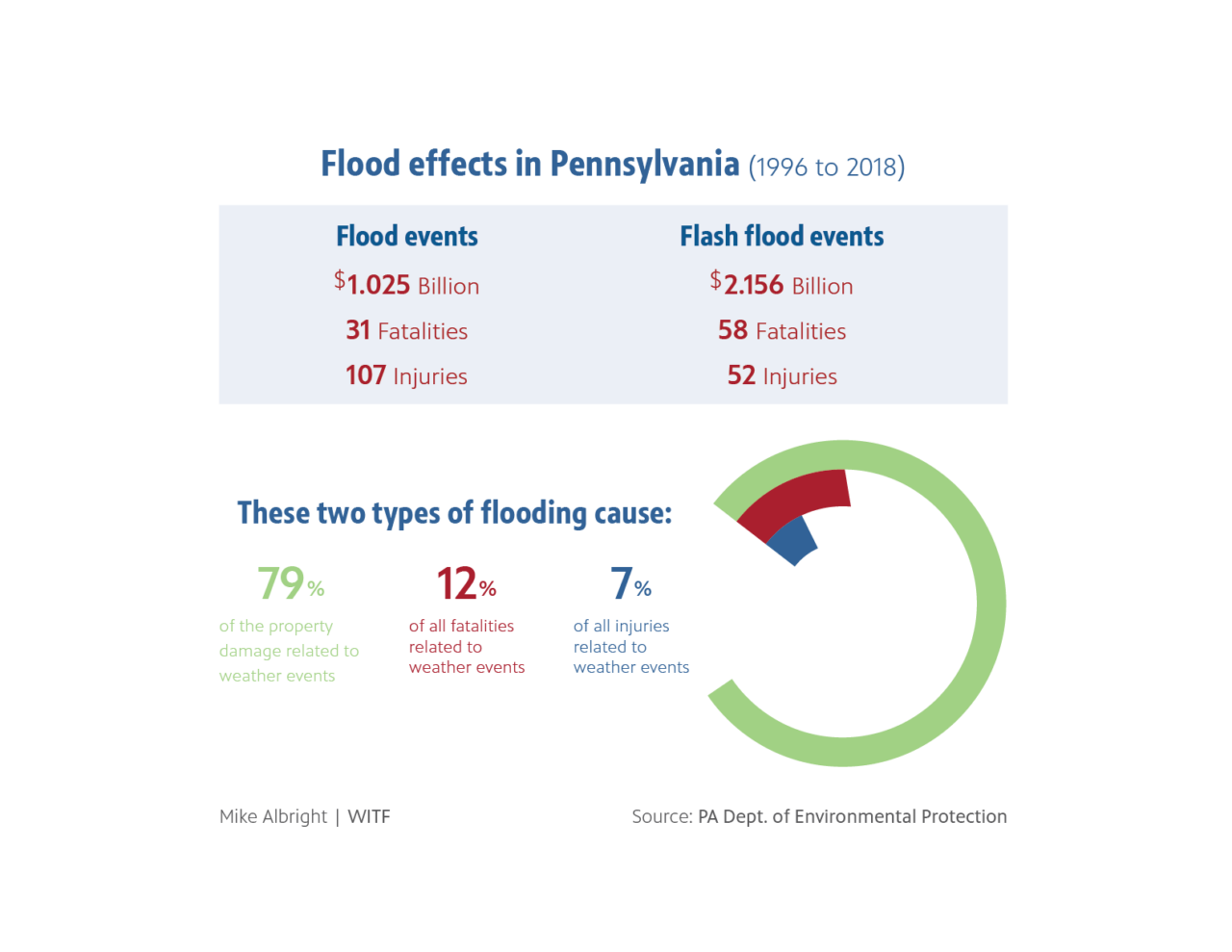 The power behind flash flooding brings additional concerns.
"Our tributaries and watersheds have become more volatile — think of Ellicott City, Md.," Jumper said. "They had a heavy rain event, a lot of development [meaning less green and more gray, impervious surfaces] further up the watershed, and a heavy rain event came down and washed out the town."
More examples hit closer to home.
"With Hurricane Ida, we saw Philadelphia's Vine Street Expressway filling up with water, and we saw Route 283 under water near Mount Joy in 2018," said Pratt, at the SRBC. "These extreme events are going to overwhelm our existing infrastructure."
Between 1978 and 2020, Susquehanna River basin municipalities received $832 million in FEMA flood insurance payments — "which actually makes it more interesting to think Hurricane Agnes isn't included in those totals," Pratt said. Within the Lower Susquehanna River Subbasin, four of the top five payments went to Dauphin County municipalities, including Harrisburg.
In the capital city, flooding is typically triggered by three sources, Harrisburg fire chief Enterline said: the Susquehanna River, generally affecting Shipoke; Paxton Creek, which floods Cameron Street; and localized flooding primarily due to the city's "built environment," focused on Allison Hill, Market and Derry streets.
"Just a localized thunderstorm can put the city upside-down," Enterline said. "Cars driving into standing water account for our highest volume of water rescue events every year — not water rescues in the river."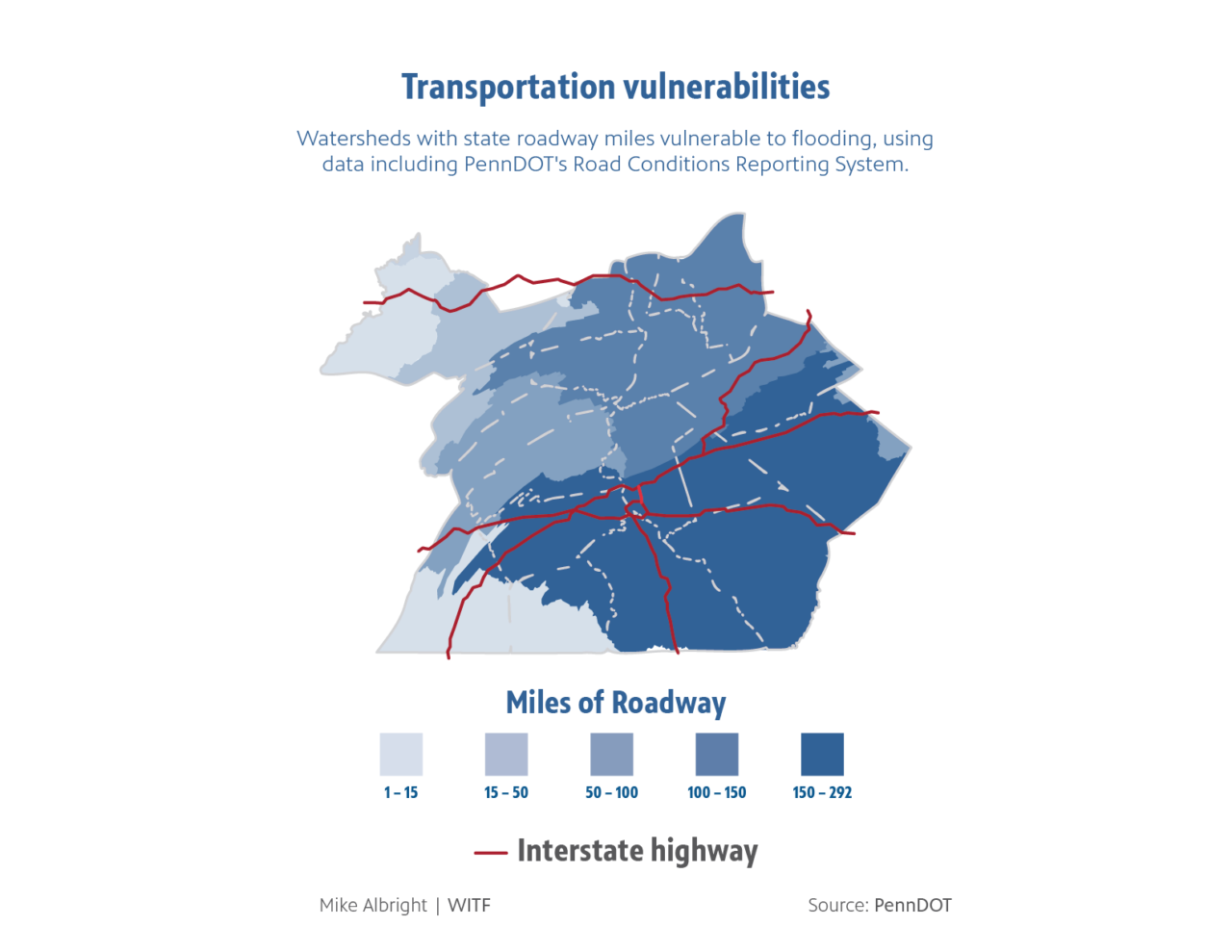 Water woes are currently dominating western U.S. headlines, as climate change brings drought conditions to that region. Here in Pennsylvania, it might be easy to dismiss these things as NIMBY events — those "not in my backyard." But climate change adjustments across the nation and world are interconnected.
"There are concerns about the capacity of the Colorado River as a source, and that's concerning because, ultimately, that could impact things within the Susquehanna River basin," Pratt said. "It's hard to think about, but — recognizing the agricultural production that comes out of California — if that would go away, where does that go, and [if production relocates here] does that become a stress on our water resources?"
Solutions
Many potential solutions being studied and implemented to mitigate or adapt to climate change are cited within the state's 2021 Pennsylvania Climate Action Plan, a DEP roadmap for reducing greenhouse gas emissions by hitting benchmarks in 2025 and 2050. The plan calls for a 26% reduction in Pennsylvania's greenhouse gases by 2025, over 2005 emissions. That would, in essence, take some of the wind out of climate change's sails.
"We will meet that 2025 goal," said Byron, who led the plan's development and is launching work on the next iteration. "We publish a state inventory of greenhouse gases annually, and looking at that data — there's a little bit of a data lag — as of 2019, we had reduced greenhouse gases by 18%. The vast majority of the reduction in greenhouse gases has been in our electricity sector — we've reduced emissions about 40% — and that's largely due to switching from burning coal to burning natural gas in our power plants."
On the emergency management side, Jumper, after serving as the first state meteorologist under PEMA, is moving to another newly created role as emergency management program manager for resiliency.
"I'll be creating a playbook that helps us provide assistance to individuals, communities, counties and state agencies recovering from disasters," Jumper said. "Basically, how do we prevent, and then how do we get back on our feet after disasters such as flooding?"
At the SRBC, Pratt is focused on improved and innovative forecasting and warning capabilities, including the debut of the 100-mile-long Susquehanna Floodwater Response System near Wilkes-Barre. He's also looking forward to the rollout of powerful new forecasting tools to better detect potential flash flooding, such as the National Weather Service's upcoming National Water Model.
In Harrisburg, water rescue units are at the ready.
"Over the past 10 years, we have invested tens of thousands of dollars into water rescue response boats and training equipment," Enterline said.
In the meantime, a comprehensive project involving state, county and city officials has produced the Paxton Creek Master Plan, calling for the creek's de-channelization to decrease flooding and increase ecological benefits. The city is also writing grants to replace manual water gauges with city weather stations.
What about the power of one — decisions within our own grasp?
Jumper recommends all home or business owners consider flood insurance, even those not in floodplains. Pratt encourages people to pay more attention to forecasts, recognizing there's uncertainty and danger in flash flood warnings, in particular. And then there's education.
"What I do now is all about education and outreach," said Stacey Hanrahan, SRBC spokesperson. "Half of my meetings are about, 'How do we tell the public the facts about climate change in a way that makes them care?' And at the end of the day, sometimes that comes down to your wallet, through higher energy bills, farmers' growing degree days, environmental justice issues and how poorer communities are affected. And there's hope with the kids — they have more of an immediate concern, which is promising. At the end of the day, it all comes down to education."
This story appeared in TheBurg as the second in a six-part, Pennsylvania-focused, climate change series by freelance writer Karen Hendricks. It was republished as part of a content-sharing agreement with WITF, StateImpact Pennsylvania and Climate Solutions.